<!–
­
­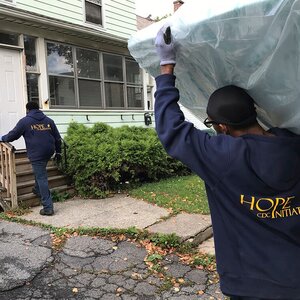 ­
­
For children caught up in a crisis at home, there are many people to look after them: CPS Caseworkers, teachers, medical professionals, neighbors, and relatives, to name a few.  
But what about the tangible needs of children and families in crisis? Who tends to the basic living necessities like beds to sleep in, tables and chairs to share meals, appliances to keep food fresh, and clothes clean? We may take these things for granted, but they're essential items to struggling families who may not be able to afford them.
Child Protective Services contracts with a couple of noteworthy agencies in Rochester that meet these tangible needs: CarePortal and Hope Initiatives.
­
­
Care Portal is an online network that links requests for material needs in the community with people who want to help. This collaborative effort can prevent a child from entering the foster care system, strengthen a biological family, or support a youth aging out of foster care.
"The number one reason for 64% of kids entering foster care is neglect," said Dr. Ashley Cross, founder of The Hub 585, Inc., a Rochester-based non-profit organization that gives hope to youth and their families through programs and partnerships that educate, enrich and empower them. "By understanding that there is a correlation between poverty and neglect," she said, "we can often prevent the placement of a child into foster care if we, as a community, come together to meet the tangible needs of families who are struggling."
Here's how CarePortal works: Caseworkers assess the unmet tangible needs of vulnerable children and their families involved with CPS. They enter these needs on the CarePortal platform. These requests are received in real time by local churches, agencies, community members, and businesses in the network, giving them the opportunity to respond.
Some examples of current unmet needs in Rochester include a highchair, baby walker, diapers, crib frame, clothing, gas card for transporting kids to school, toddler car seat, and leads on a new apartment.
CPS caseworker Alison Chrysler utilizes CarePortal to provide family members with items to care for children. She recalls a teenager who "was really struggling at home with her mental health and her sobriety. She wanted access to arts and crafts, baking supplies, a weighted blanket for her anxiety, and some other sensory activities to occupy her time." Chrysler put a request into CarePortal, and it was fulfilled by someone in the network. The items she received "helped her to focus her attention on healthy skills at home versus making unhealthy choices," said Chrysler. "This isn't something that normally that mother could afford to give her daughter."
CarePortal was started in 2015 by the Global Orphan Project as a way to provide local support for foster children and families in need. Nationally, the tangible needs of 161,302 children have been met through the platform.
­
­
Hope Initiatives CDC, Inc. is a faith-based non-profit, chartered in 2002. Their mission is to help restore lives damaged by incarceration, substance abuse, and poverty by providing job opportunities and job skill training to adults who need a second chance.
"Everyone has God given gifts and talents," said Dale Sedgwick, President and CEO. "At Hope Initiatives, we don't let our employees or trainees forget who they are and what they were created to be."
Hope Initiatives functions as a social enterprise, operating as two businesses: Hope Woodworks custom furniture manufacturing built on-demand to help families in need and Hope Moving & Storage services for individuals and small organizations.
"We fulfill needs for furniture and household goods for people who may have come from shelters, suffered domestic violence, or who have been released from incarceration," explained Sedgwick. "They are literally walking into a new place with nothing there. Regardless of their circumstances, we can help them live humanely."
Julie Nichols, administrative caseworker for Monroe County Child and Family Services, explained that tangible needs are identified through Child and Family Services as well as Financial Care Path. "We contract with Hope Initiatives to purchase household items such as pack-n-plays or beds for children, dressers, table and chairs for the kitchen, refurbished appliances, linens, pots and pans, etc.," said Nichols.
When Hope Initiatives receives a voucher through one of their contractual relationships, most requests are filled within 24 hours. "When arranging for a time to deliver, speed is important," said Sedgwick, "so families can store food and things like baby formula, to eat and live."
The non-profit does not rely on grant monies to fund these services, so financial donations are accepted and appreciated. Their income doesn't cover all their expenses, so as the costs of goods and services increases, the need for support increases. "We buy a ton of raw materials, fabrics, and finished goods, and must keep our delivery and moving trucks running," said Sedgwick. "If you know of a family in need, consider sponsoring them with a charity package, to receive the basic items they need to live."
­
­
­
­

­

This email was sent to {{contact.EMAIL}}

­
­

­
­